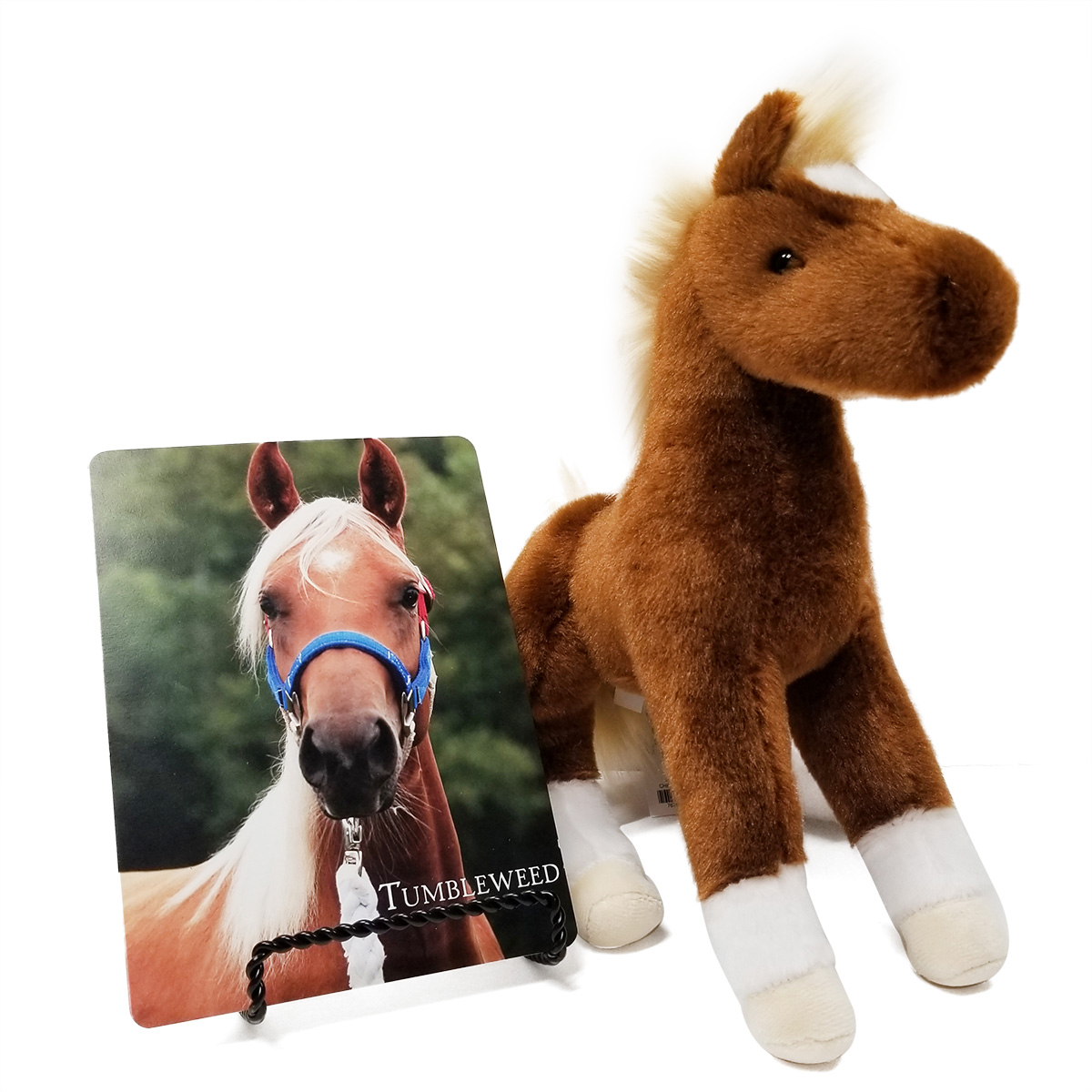 Give a Gift that Keeps on Giving
Sponsor a Barn Buddy!
Have you ever wanted a horse or farm animal of your very own, but one wouldn't fit in your living room? Sponsor a Barn Buddy! Your sponsorship will help feed, board and provide medical care for all of the rescued farm animals who find a safe haven at Longmeadow Rescue Ranch. For the person who has everything, a Barn Buddy sponsorship makes a fun and unique gift for holidays, birthdays, Mother's Day, or any other special occasion.
Please contact the development team at 314.951.1542 with any questions.
Barn Buddy Sponsorship Levels
Plush animal
Animal's biography
Adoption Certificate
Longmeadow Sticker
Digital Activity Sheet
Plush animal
Animal's biography
Adoption Certificate
Longmeadow Sticker
Digital Activity Sheet
Barn Buddy Magnet
Digital Quarterly Barn Buddy Updates
Plush animal
Animal's biography
Adoption Certificate
Longmeadow Sticker
Digital Activity Sheet
Longmeadow Magnet
Digital Quarterly Barn Buddy Updates
Longmeadow Canvas "Feed" Bag
Invitation to special Barn Buddy Event at Longmeadow Rescue Ranch*
Plush animal
Animal's biography
Adoption Certificate
Longmeadow Sticker
Digital Activity Sheet
Barn Buddy Magnet
Digital Quarterly Barn Buddy Updates
Longmeadow Canvas "Feed" Bag
Invitation to special Barn Buddy Event at Longmeadow Rescue Ranch*
Print of a Twist of Fate, a.k.a Twister, Original Painting
*Please contact 314.951.1542 to inquire about event details.
Laverne & Shirley
mixed-breed nigerian dwarf goats
Laverne and Shirley arrived at Longmeadow Rescue Ranch in October 2016. Their owner, forced to move into a different home without room for farm animals, surrendered these young sisters, along with two male goats, knowing they would be well cared for by Longmeadow's expert staff. Although the previous owner believed Laverne and Shirley were too young to breed, Longmeadow's veterinarians discovered that Shirley was pregnant. At the end of January 2017, she delivered a healthy baby girl, named Panda.
Laverne and Shirley are learning to walk on a leash and becoming more accustomed to being around people. They love to eat goat treats. However, staff and volunteers avoid giving them treats by hand to make sure the goats don't learn to nibble on fingers!
Teddy
a miniature horse
Teddy was rescued in the fall of 2012 from a property with many other neglected horses, mules and dogs. He was found living in a small pen with another miniature horse and several huge, starving hogs. The hogs were more than four times the size of Teddy! Hogs are known to be predators of anything smaller than them, especially when starving, so Teddy was lucky to be alive.
Now that he's healthy, Teddy's beautiful roan coloring and flaxen mane and tail really shine! During the day, he hangs out with his Barn Buddy friend Ritz in a large turnout pen at Longmeadow's Menagerie Barn. At night, he goes into his own stall so he can eat his carefully measured feed for dinner and breakfast. He's a very good-natured guy and he enjoys attention from people.
Teagan
an adult alpaca
Teagan came to Longmeadow Rescue Ranch from a cruelty investigation in the fall of 2014. The owners were not providing basic care for more than 100 animals on their property. Teagan was one of many animals the owners surrendered to the Humane Society.
Teagan has a very sweet and curious personality. She likes to be up close and personal when meeting visitors but she still doesn't like her face or head to be touched. If you want to make friends with her, give her a nice scratch on her neck and shoulder.
Teagan gets along well with other animals. She spends time socializing with the llamas, miniature horses and donkeys, sheep and goats. She is halter trained and she made her first Barn Buddy appearance in the fall of 2015. She behaved perfectly, settling right into her job greeting visitors and sharing stories of rescue and rehabilitation at Longmeadow.
Tumbleweed
a palomino mare
Our hearts broke when we first saw Tumbleweed, an emaciated horse who was left to starve on a property in western Missouri. She was rescued in January of 2012 with 15 other horses and two donkeys in serious need of nutritious food and veterinary care. Fortunately, because of the great care they received at Longmeadow, they all survived.
Since her rescue and recovery, Tumbleweed has taken full advantage of the big pens at the ranch, running around and kicking up her heels. She is halter trained and is being evaluated for riding. Tumbleweed loves to play outside every day with her best friend Jinx, a pinto filly horse. She loves to hang her head out her stall window and check out what's going on around the ranch. As a Barn Buddy Ambassador, Tumbleweed is looking forward to meeting new people and making friends from lots of new places.
Twister
a warmblood cross horse
Mama, Twister's mother, came to us after a double decker semi truck carrying 41 horses and one hinny wrecked on I-44 in Franklin County on September 27, 2006. The horses were being transported to a slaughter house in Illinois. Twenty-five horses and the hinny were saved. When Mama was rescued from the wrecked trailer, it was very obvious Mama was pregnant. We were concerned the baby would not survive such an ordeal. Fortunately, Mama continued her pregnancy and we all anxiously waited for the foal to be born. A healthy Twister arrived about 9 p.m. the night of April 18, 2007.
Twister was a bit of a brat when he was with his mom, and ever since he was weaned he's generally been well-mannered. He can still be a trouble maker, but he seems to know his role as mascot. Twister typically fidgets and gets into everything until the cameras are rolling. Once he knows he's in the spotlight, he poses like a celebrity!
The Coop
group of birds
Chickens and geese and ducks, oh my! Do you love birds so much that you don't want to have to choose which one of our adorable, feathered friends to adopt? You don't have to – you can adopt the whole Coop!
We love our whole Coop, and we even bring some of our birds to events to meet their fans. They love having the nutrition, shelter, and medical attention they deserve. There are always big personalities in the Coop, so we love it when our visitors, especially kids, spend time getting to know them and see them in their Coop or running around in the barns. By adopting the Coop, you get a whole flock of gratitude!
Katie
a llama
Her scientific name is Mammalia, Artiodactyla, Camelidae, but you can call her Katie the Llama or just Katie for short. And yes, as her scientific name implies, llamas are close relatives to camels. Llamas first appeared on the Central Plains of North America about 40 million years ago, but who is counting? Katie joined Longmeadow Rescue Ranch in 2011 after a journey that included a stint as part of a 4-H agricultural program that teaches kids about animal husbandry. It was here that Katie developed her love for people. Her next stop was Southeast Llama Rescue (SELR), surrendered by an elderly couple who could no longer take good of her. As luck would have it, Longmeadow was looking for a llama to add to our program and SELR was looking to re-home Katie.
Katie was shy at first but well-mannered once she was haltered and handled. She gets along well with the alpacas and other llamas. She loves her goat and sheep friends, and she even enjoys time to hang out with the miniature horses. She can be nervous at events, so when Katie makes public appearances, she is often with one of her more confident Barn Buddy alpacas.
Leonard
a donkey
Leonard is a black miniature donkey who we rescued in May of 2019. Bred to be a working farm animal in mountainous areas, miniature donkeys would perform such helpful chores as carrying firewood, delivering packages, and even helping tend other livestock. A very popular breed, Leonard is a perfect-sized miniature donkey, at 31 inches.
Leonard is a very happy and playful boy! He loves all his friends in his pen and loves to be the life of the party. Considering all he's been through, its pretty clear that he appreciates the regular care and attention that he gets from all the humans at Longmeadow. He's a very brave fellow considering what he's been through, and with ongoing treatment he should be able to continue to live a happy life at Longmeadow.
Howard
a donkey
Howard is an adorable miniature donkey. He arrived in March of 2021 with numerous other equine and dogs. Miniature donkeys aren't bred from standard donkeys, but are their own species, originating in Sicily and Sardinia. They came to North America about 100 years ago and their popularity greatly increased after that. Howard is mostly white with brown spots and has the sweetest, soft nose and white forelock that looks like a mop – the original mop top!
Having been severely neglected in the first 5 years of his life, Howard was shy and sometimes fearful around people when he first arrived. Since then, his confidence has increased, and although sometimes still a little shy around new people, he continues to show signs of growing trust and affection for his regular handlers. Howard is 33 inches tall (at his shoulder) and lives in a pen with some of our other miniatures and goats, and they seem to really enjoy each other's company! With ongoing care and support, Howard can expect to have a long, happy life at Longmeadow!
Homer & 
Tater Tot
the kunekune pigs
Homer and Tater Tot are KuneKune pigs! They are brothers who have spent every moment of their young lives together. Born in 2018 on a breeder's farm, they came to Longmeadow in 2020 when their breeder decided to close their operations. KuneKunes are indigenous to New Zealand and are often kept by the Māori people there. The name KuneKune means "fat and round." It is becoming more common to find KuneKune pigs in this part of the world as they graze but don't root at the ground and are so sweet!
Homer and Tater Tot love to meet visitors, and because of their docile temperament, are wonderful with kids. They have scrunched snouts which makes them have poor vision and low sense of smell, so they're pretty happy just laying in their hay beds getting belly rubs and chin scratches all day! With support, they will continue to live happy lives at Longmeadow, bringing delight to people young and old.
Delores
an alpaca
Delores is a light fawn alpaca who arrived at Longmeadow in 2018 as an owner-surrender. Unfortunately, her owner didn't have any experience with alpacas or llamas and after a while she realized she was in over her head, and Delores deserved care that she couldn't provide. Thankfully, she brough Delores to us and we began the process of proper care and socialization she desperately needed.
Delores can still be a little shy around people, but has grown to love the company of her pack of llamas, horses, donkeys, and the other animals at Longmeadow. It's natural for alpacas to hum when they talk to each other and humans, and to shriek when angry or afraid. We have heard her hum from time to time and although she has never shrieked at the humans at Longmeadow, she's certainly capable, having warned other members of her pack to not eat her leftover food! With continued proper care and support, Delores will have the opportunity to live her best life with her friends at Longmeadow.
Cruiser
a miracle in the making
The fact that Cruiser was even born is a miracle. In October of 2020, a team from Longmeadow Rescue Ranch arrived on the scene of a horrific tractor-trailer accident on Interstate 44. The overturned trailer had been transporting a number of horses across the country. Fortunately, fifteen horses survived the crash and were brought to the Ranch to be rehabilitated and to recover.
One of the surviving horses, Journey, was pregnant at the time of the accident – a fact that was discovered soon after she arrived at Longmeadow. Although she had been through a terrible ordeal and was already 20 years old herself – older than ideal for a pregnancy – she made it through and gave birth to Cruiser on August 16, 2021. Cruiser has had a few health challenges, but has pulled through each one. He is a typical young horse, full of playfulness and mischief! He requires a lot of attention and care but is very loving and curious. After he was weaned from his mother, she became available for adoption to a forever home to enjoy her retirement.